2 days ago, I noticed that leaves on our Maple tree were turning red along the veins. Yesterday, one of the leaves had turned a brilliant red overnight, with others beginning to change. By the end of the day, several leaves in the same area had turned, with one red leaf lying on the ground. It's beginning.
Do leaves begin turning in the summer? They do so in our civil calendars, but those schedules aren't related to Nature, as much as to convenience. In the old calendars, summer is over and autumn has begun. It happens every year around the first week in August and has for thousands of years. Watch and see what's happening around you.
Although plant life is still green and abundant and the Green Man is still strong, a change is beginning. It won't be long until the signs of the next season are obvious, with the days getting shorter and the nights cooler. As I write this, it's 96° outside, and it probably seems ludicrous to proclaim that fall has begun, but that's just the way it is.
Grasses everywhere are ripening, some of them showy, with great, plumed, purple stalks waving in the wind. Others are quietly releasing their seeds in an attempt to spread themselves as far and wide as they possibly can.
Harvests have already begun. Here in Colorado, we have a bumper crop of peaches and our local corn is at the stores already. In the old days, this would've been a sign of a benevolent energy, rewarding the good people for their hard work. I choose to think that way still, even though just about everything has changed when it comes to agrarian life. The one thing that hasn't changed has been the sweat, toil, and labor of those who bring our food to the table. Once upon a time, this work was a joyous, loving chore. I never take any of it for granted.
I look at this time of year as an opportunity to tidy up those things that may have gone undone to this point. In that old calendar, ruled so accurately by the dynamics of nature, we have 90 days until the beginning of winter. Samhain will bring a quieter time, one that always thrills me, as it is a season of immense power and spiritual strength. It's also a great time to sit with a hot cup of tea and knit by the fireplace.
We aren't there yet. We've just begun an active time for humans. For millennia we've been racing against the clock in order to get as much done as possible, before the weather turns to cold, to sustain our food sources. Our natural, inner, biological calendars are taking note. Of course, have fun and enjoy this glorious time of the year, as every day is a gift in one form or another, but don't neglect the excitement of watching one of the most glorious displays of color and aroma that this earth has to offer. Take it all in.
The show is beginning, and we are a part of it, whether we know it or not.
Until next week, I wish you all peace and love.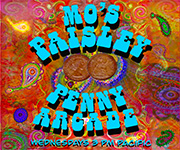 Remember, I'm an advisor at 12listen.com and would love to be of service.
Need a launch date?
Get the Perfect Date To Launch Report! Visit me at Facebook.com/MoTarot I'd love to hear from you!